Apron Up Cooking Class " Cooking is never going to be a job, it's a passion"
Add: 3rd floor 66 Bat Su Street, Hanoi, Vietnam
Special Promotion : 32 USD /01 Person Only
Booking our cooking class now by Call us : 0942 406 686 + International Call / What'sapp : +84942406686
Email : apronupcookingclass@gmail.com
Daily classes :Daily classes open on every day and classes last for 3 hours at 9h00AM to 12h00 , 11h30 to 14h30 , 16h00 to 19h00 and 18h30 to 21h30
Price : 32 USD/Person /Group Tour ( You are a member of group 6 to 10 People )
Inclusions : English - Speaking chef, welcome tea, market trip, all ingredients, 5 dishes, cook book, certificate
You are amazed by the mesmerising authentic Vietnamese food which is not the same in your home country? Take a cooking class to learn the secrets and dazzle in delight your family and friends when you come back home!Viet cusine is simple like the people and the nature here. You don't need to be a chef to make successful Viet dishes, but you do need the tips to make flavourful and proper ones.
Apron Up Cooking Class is the place for you. Here you will get the family handed- down recipes and tips which cannot be found in books or else where. More over, you will be inspired to cooking by the enthusiastic and energetic people here. We have classes covering the most popular and favoured Vietnamese dishes and alternatives that will adjust to all your desires.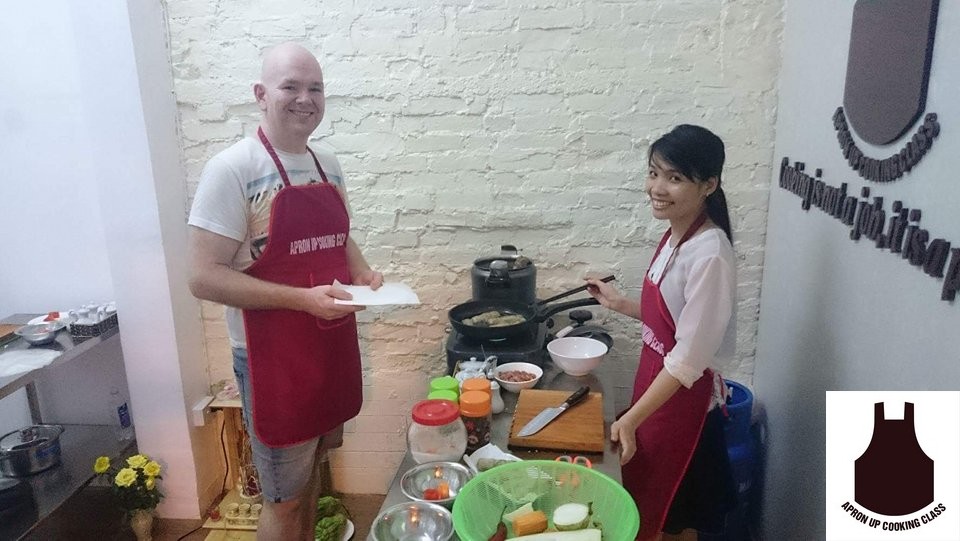 1 ) Daily cooking class menu
Before class starts, you will discuss and agree with other classmates about the menu you want to cook ( one or the other for each pair of dishes as below, note that vegetarian participants will learn the corresponding vegetarian version of that dish):
| | | | | |
| --- | --- | --- | --- | --- |
| Pho (beef noodle soup) | Vegetarian glass noodle | OR | Banh xeo (traditional pancake) | Vegetarian Banh xeo |
| Bun cha (BBQ pork noodle) | Tofu ball tomato noodle | OR | Ga sa ot (chicken with chilli and lemongrass) | Stir-fried combination veggies |
| Nem ran ( fried springroll) | Vegetarian Nem ran | OR | Vegetarian Nem ran | Vegetarian fresh spring roll |
| Nom du du (papaya salad) | Papaya salad | OR | Nom hoa chuoi ( Banana blossom salad) | Banana blossom salad |
| Cafe trung ( Hanoi egg coffee) | Egg Coffee | OR | Kem chuoi (banana ice-cream with coconut & peanut) | Banana ice-cream |
Price : 32USD/Person /Group Tour ( You are a member of group 6 to 10 People )

Inclusions: English - Speaking chef, welcome tea, market trip, all ingredients, 5 dishes, cook book, certificate
2 ) Private classes :
Private classes open every day at recommended time or your required time. Private classes last for 3 – 4 hours, you can choose any 5 dishes in the menu to learn (please note that all dishes except for the marked one have vegetarian version)
Spring Roll ( with matching dipping sauce)
Nem Ran - Traditional fried spring roll
Pho Cuon - Fresh beef spring roll
Goi Cuon - Traditional fresh spring roll
Cuon La Cai - Fresh kale roll with shrimp and porp
Nem Ga Tom - Fried chicken and shrimp roll (no vegetarian)
Salad
Nom du du bo kho - Papaya salad with dried beef
Nom Hoa Chuoi Thit Ga- Banana blossom salad with chicken
Goi Buoi Tom Thit - Pomelo salad with shrimp and pork
Nom Rau Muong - Morning glory salad
Nom Dua Chuot - Cucumber salad
Nom Ga – Chicken and veggie salad
Dessert
Ca Phe Trung - Egg coffee
Sua Chua Nep Cam - Black sticky rice yogurt
Che Hat Sen Long Nha- Lotus longan dessert
Banh Chuoi - Banana pancake with ice-cream
Tra Trai Vai - lichee tea
Kem Chuoi - banana ice-cream with coconut and peanu
Hoa Qua Dam - Fruit mix dessert Vietnam style
Banh Chuoi Dap - Steamed banana cake
main
Pho - Traditional beef noodle soup
Bun Cha - Traditional grilled pork noodle soup
Banh Da Ca Tron - Fish noodle mixed
Bun Hai San - Seafood noodle soup (no vegetarian)
Com Rang Thap Cam - all flavoured fried rice
Banh Xeo - Sizzling pancake
Bun Suon Chua - Summer pork rib noodle soup
Ga Xao Sa Ot - Stir-fried chicken with lemongrass and chilli
Ga Kho Gung - Clay pot ginger chicken
Suon Xao Chua Ngot - sweet and sour pork rib
Cha Chia- Pork and shrimp sugarcane wrap
Banh Tom - Shrimp potato pancake
Ca Tim Nhoi Chay - Vegetarian stuffed eggplant
Banh Mi Sot Vang - Beef au vin with baguette
Pho Ga - Traditional chicken noodle soup
Thit Kho Tau - Caramelized pork
Ga Hat Dieu - Chicken with cashew nut and veggies)
Bo Luc Lac - Beef 5 spices with veggies
Ca Kho To - Stew fish 5 spices
Muc Nhoi Thit - stuffed squid
Price /Person/Number of people in your private Group
| | | | | | |
| --- | --- | --- | --- | --- | --- |
| 75 USD | 50 USD | 45 USD | 40 USD | 38 USD | Booking now |
Itinerary
Please show up at Apron Up Cooking Class located at 66 Bat Su street in the old quarter of Hanoi 15 minutes before your booking depart time to pay and meet our English - Speaking chef to get detail cooking class information. The class lasts 3 hours, starting with the market trip. The guide will bring you to a traditional market and tell you about the main ingredients in Vietnamese cuisine, so you can have a clearer overview about Vietnamese food and an insight into Vietnamese herbs and spices ( herbs and spices are important in Asian dishes). You will get to know some key useful Vietnamese words to buy and bargain the necessary ingredients yourself , which is very useful for you to bargain anything you want to buy afterward in your Vietnam trip.
After buying the necessary ingredients for the class you choose, you will come back to our class kitchen and listen to the dishes' principles and general methods, then watch how the guide prepare the foods. After that you can cook yourself and enjoy your Masterpiece!!!
With Apron Up Cooking Class, you can really get your hands on the cooking. You will buy & bargain your own ingredients and make everything from the scratch. Enroll in this class, you are guaranteed to have unforgetable experience while in Vietnam, and confidient to treat your beloved family and friends with the mesmerising Viet dishes when you come back.
Booking by Call us : 096 696 0188 + International Call : +84 966960188
By Email : apronupcookingclass@gmail.com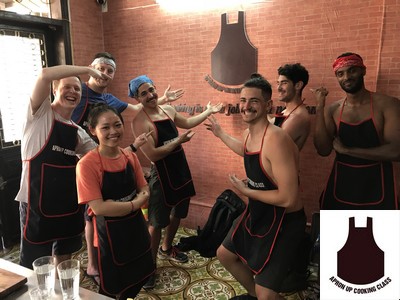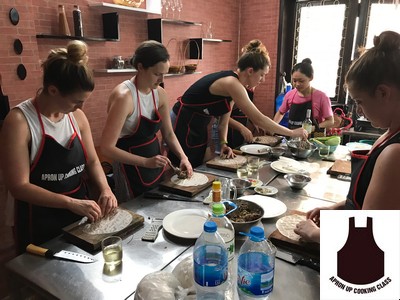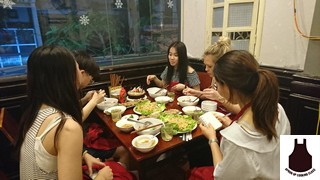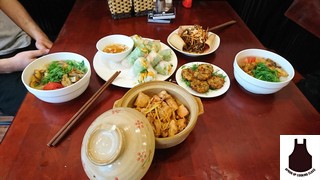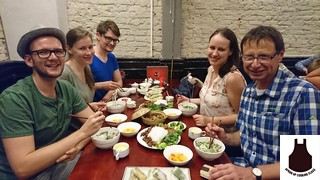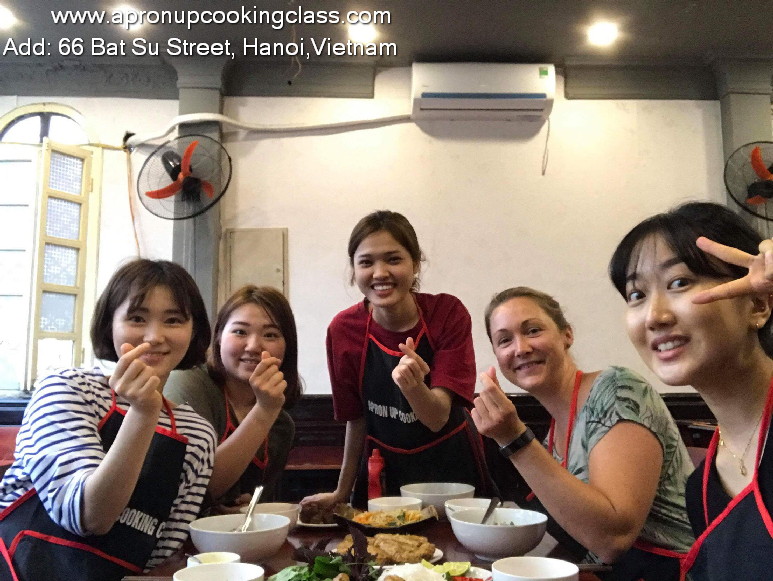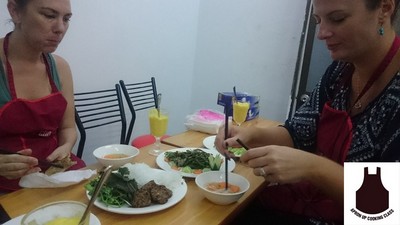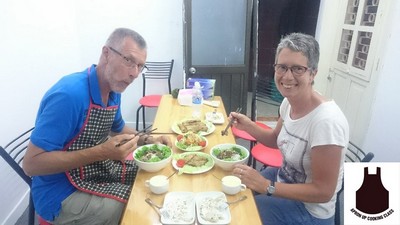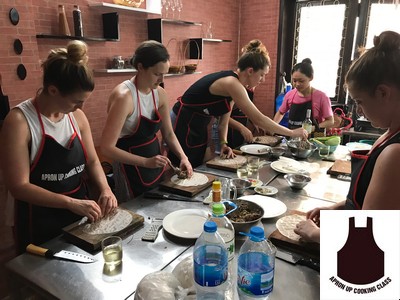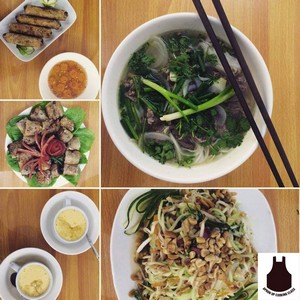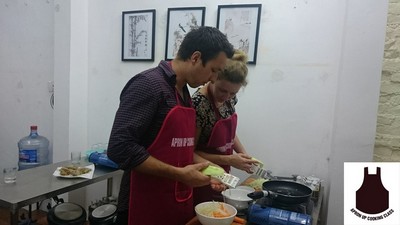 TripAdvisor Traveler Rating

Based on 649 traveler reviews
TripAdvisor Ranking #2 of 61 Classes & Workshops in Hanoi
Most Recent Traveler Reviews

Oct 20, 2018:

"Had a lot of fun at the..."

Oct 19, 2018:

"Disgusting. Stay away. Horrible experience."

Oct 18, 2018:

"Unexpectedly Great! Must do if you're there!"
© 2018 TripAdvisor LLC