Apron Up Daily Group Cooking Class - Duration : 3 hours
There are 04 daily group cooking classes per day
1) 9h00 AM to 12h00
2) 11h30 to 15h30
3) 16h00 to 19h00
4) 18h30 to 21h30
Price : 32 USD/Person /Group Tour ( You are a member of group 6 to 10 People )


Inclusions: English - Speaking chef, welcome tea, market trip, all ingredients, 5 dishes, cook book, certificate
Booking our cooking class now by Call us : 0942 406 686 + International Call : + 84 942 406 686
By Email : apronupcookingclass@gmail.com
Daily cooking class menu
Before class starts, you will discuss and agree with other classmates about the menu you want to cook ( one or the other for each pair of dishes as below, note that vegetarian participants will learn the corresponding vegetarian version of that dish):

| | | | | |
| --- | --- | --- | --- | --- |
| Pho (beef noodle soup) | Vegetarian glass noodle | or | Banh xeo (traditional pancake) | Vegetarian Banh xeo |
| Bun cha (BBQ pork noodle) | Tofu ball tomato noodle | or | Ga sa ot (chicken with chilli and lemongrass) | Stir-fried combination veggies |
| Nem ran ( fried springroll) | Vegetarian Nem ran | or | Pho cuon (fresh springroll) | Vegetarian fresh spring roll |
| Nom du du (papaya salad) | Papaya salad | or | Nom hoa chuoi ( Banana blossom salad) | Banana blossom salad |
| Cafe trung ( Hanoi egg coffee) | Egg Coffee | or | Kem chuoi (banana ice-cream with coconut & peanut) | Banana ice-cream |
Detail Itinerary|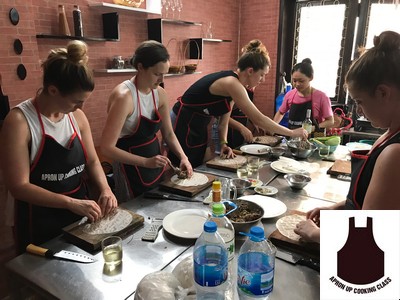 Our guide will pick you up in your hotel or meet up in some agreed middle point. The class lasts 3 hours, starting with the market trip. The guide will bring you to a traditional market and tell you about the main ingredients in Vietnamese cuisine, so you can have a clearer overview about Vietnamese food and an insight into Vietnamese herbs and spices ( herbs and spices are important in Asian dishes). You will get to know some key useful Vietnamese words to buy and bargain the necessary ingredients yourself , which is very useful for you to bargain anything you want to buy afterward in your Vietnam trip.
After buying the necessary ingredients for the class you choose, you will come back to our class kitchen and listen to the dishes' principles and general methods, then watch how the guide prepare the foods. After that you can cook yourself and enjoy your Masterpiece!!!
With Apron Up Cooking Class, you can really get your hands on the cooking. You will buy & bargain your own ingredients and make everything from the scratch. Enroll in this class, you are guaranteed to have unforgetable experience while in Vietnam, and confidient to treat your beloved family and friends with the mesmerising Viet dishes when you come back.
Booking by Call us : 0942 406 686 + International Call : + 84 942 406 686
By Email : apronupcookingclass@gmail.com